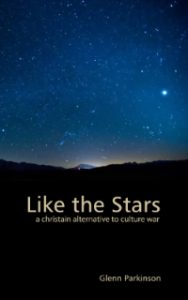 Should Christians be fighting a "culture war" or does the Bible call us to engage society in more positive and effective ways? Pastor Glenn Parkinson selects seven key texts in both the Old and New Testaments that outline how evangelicals can recapture their potential to enrich life in America.
"In a free and pluralistic culture, the chief social contribution of Christians is the inspiration of righteousness. Responding to the moral decline of America with resentment and hostility does not inspire righteousness; it only alienates our neighbors further from us and from the gospel." (from the Epilogue)
The Bible gives hope that Christians might turn a decaying society upside down, but the answers are not easy. We must stop reacting possessively to the crumbling of our Christian heritage, and set about the task of winning hearts and minds. The time has come to lay down the combative rhetoric that keeps us standing stationary on our principles, and move out to engage a dying culture with the gospel that can make a difference.
And those who are wise shall shine like the brightness of the sky above; and those who turn many to righteousness, like the stars forever and ever. (Daniel 12:3)
The book includes study questions. Buy the book
Original messages:
The Commandments of The Lord (Deuteronomy 5:1-22)
A Breadth of Understanding (1 Kings 4:29-34)
Seek the Peace of the City (Jeremiah 29:4-7)
Placed in a High Position ( Daniel 2:46-49)
The Salvation of God (Luke 3:1-18)
A Great Disturbance about 'The Way' (Acts 29:23-41)
Prayers for Those in Authority (1 Timothy 2:1-14)